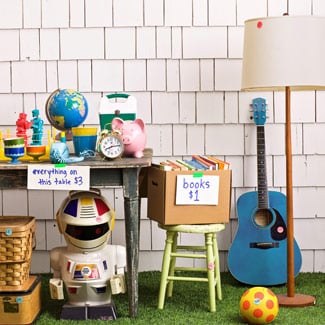 If you are anything like me, you are BUSY. Kids, work, and life make doing anything extra an impossible feat. So when my husband said for the umpteenth time that we needed to sell some of the baby furniture taking up space in the basement, I knew I would have to think outside of the box instead of sitting in my front lawn for an entire weekend trying to barter with the neighbors. How could I sell some of our family's unwanted possessions without dedicating time that I don't have? The answer: digital yard sale.
Blog It If You've Got It
The first step to setting up a digital yard sale, is to create a blog. It's the fastest and easiest way to technologically showcase pictures of what you want to sell. Some popular free sites are Blogger and WordPress. Creating a blog is easier than you think; just follow the step-by-step directions and voila! You are in. Remember, this is a public yard sale; you will be blogging about goods to sell and that's it. Try to keep your private, online journal that chronicles your children's milestones separate from this one.
Next, you need to take pictures of everything you want to sell. You want to take pictures of each item individually, and with a neutral background. Then, you will need to create a new blog entry for each item that you want to sell and include a photo or two and a brief description. So, for example, your post title could be "Highchair" and the body of your post could include one or two clear photos of the chair set up, and a blurb about the age and condition of the highchair.
You will also need to decide how you want people to contact you if they are interested in items. There are usually comment boxes on blogs that could be used for communication, or you can create a new email address for selling purposes only. Whatever your preferred method is, list it on every blog entry.
So, now that we have an awesome blog set up and all of our items ready to sell, how do we get the readership to actually view our sale?
If You Sell It They Will Come
Nowadays, everyone is on a social media site. From Facebook, to Twitter to Tumblr, everyone that we knew from high school, college and beyond is online. It's time to put those connections to good use. Share your blog address with friends online and, since they are your friends, maybe throw in free delivery for locals. You could post a "Deal of the Day" or "Bargain of the Week" and share a photo of the item along with your blog address to see more. People that I am friends with prefer to buy from someone that they know; it's comforting to buy Little Sally's wagon, especially when I know her family, where they live, and I've known Little Sally since birth. People like to buy what they can visualize.
At the end of the day (or week or month) hopefully you have sold a few things. Hopefully you didn't have to waste a beautiful, summer weekend sitting outside of your house trying to convince people that the ticket price, really is the price, and no you are not going to meet them in the middle. Hopefully you've made some room in the basement so that you can start trading some of your digital yard sale items for your friends' digital yard sale items; because you know they loved your tech-savy way of saving time and money and created their own. Good luck and happy selling!