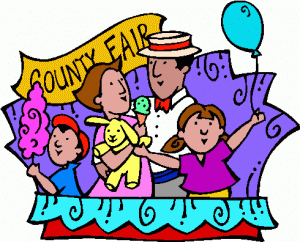 Summer is when the fair and festival season gets going. It seems you can find one almost every weekend. There's a lot of fun to be had at a local festival, getting out and spending time with friends, family and neighbors. There's also a lot of money spent at festivals. There are some ways you can make this a more affordable outing.
Food
Food is one of the primary reasons we go to fairs. Funnel cakes, hot dogs with the works, and cotton candy start beckoning to our senses as soon as we step out of the car. Certainly a little indulging is appropriate but if you buy everything for everyone in your party, you'll be broke before you ever make it to the rides and attractions.
One way to cut costs here is to eat a good meal at home before heading out to the fair. With a full stomach, you're less likely to indulge in every edible whim and you can be choosier about those you do give in to.
Talk about what you enjoy most to eat at the fair. Mae sure everyone gets to have at least one favorite food item so no one feels like they sacrificed too much and missed out.
Kids
Often fair planners set aside certain days or times of each day when rides are cheaper than during the rest of the fair. See if your fair offers this incentive and plan to take the kids that day. Arm bands are a common tool used to cut costs on kids rides by offering a discount on the arm band compared to paying for individual rides.
Attractions
Plan your visit to the fair according to the attractions you want to see most. Most fairs last from several days to one or two weeks. Each day different attractions are featured, hoping to lure fair goers back again and again. Races, rodeos, demolition derbies, concerts, beer gardens, beauty contests and all manner of entertainment are available. Check out the listings and figure out what is most important to you and your family.
Have fun at the fair but do it smartly. Plan your trip and what you're going to see and do so you don't break the bank doing it. In some situations, it may be best to plan two trips to the fair, one for the kids and one for the adults.