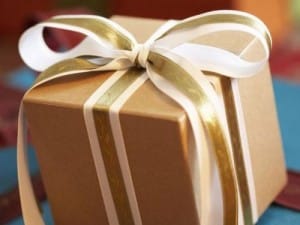 When it comes to giving gifts, especially to those we appreciate, it's hard to know what to give when little money or no money is available.
If lots of money were readily available no doubt the best would be bought, but since we're dealing with limited or no budget getting creative with what we give is a good way to go. It isn't important that the gift be big or expensive. A gift after all is token of our appreciation towards friends, family, and others. They will appreciate your thinking of them.
When deciding on what you're going to do or make, keep the person in mind that the gift is for. You don't want to give a gift which isn't suitable for the receiver. If you're giving a gift of Cheese, logically you'd not give it to someone who doesn't like cheese. So take the time to consider the person, what they like, and the times you've spent together.
Remember frugal doesn't always mean cheap or free, it means also using your money in a way to get the "most bang for your buck". With that thought in mind here are a few suggestions which might work for you when it comes to giving gifts of appreciation.
1. Personalize a journal for your writer friends. Dollar stores, such as the Dollar Tree carry an assortment of journals which cost a dollar. Once you make a selection personalize it with things appropriate to the persons you're giving it to. On the inside cover leave a message, a quote or something which links the two of you together.
2. Cookies, cakes, or favorite desserts always make great gifts. Doll them up with ribbons and packaging, throw in a note, again something the two of you have shared together.
3. Do you have a friend who likes house plants? Give a starter plant to a friend who enjoys growing things.
4. To those who love coffee, an on the go mug with a sampling of coffee is perfect.
5. Consider giving oils and lotions to those who are into skin care. Again Dollar stores carry an array of lotions and oils which cost next to nothing.
6. If you are giving a gift to a teenager or someone who enjoys music, create a CD with their favorite music on it.
7. Is there an avid reader on your list? Book stores always have sales on unique or personal selections of books and who says books need to be new? An old copy of a most cherished story can be just as thoughtful a gift as a new edition.
8. For those guys on your list, a gift of shaving cream or after shave can be a very thoughtful gift.
9. Just like with coffee, give a mug with different samplings of tea in it, if you know someone who likes tea instead of coffee.
10. For your Movie buff friends or family, how about a Movie Pass for a long awaited movie they've been wanting to see. Perhaps you can give them a bag of popcorn and snacks they can eat at home once the movie is over. If you can afford it a movie package might be available for a movie, popcorn and a drink. Just ask what kind of packages are available for gift giving when calling.
No matter what you give or what you do, just keep the person in mind you're giving the gift to. Giving a well thought out gift, no matter the cost, is what is important and it will mean a lot to the person receiving it.