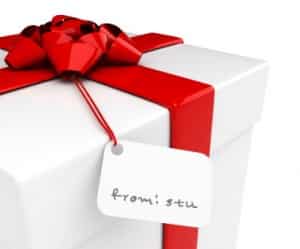 Occasions that call for gifts can set a budget back unless you are one of those people who plans well in advance. Even then, an unexpected invitation to a birthday party can bring money-crunching anxiety if your child is expected to bring a gift. Whether you are buying for your own child or someone else's, a little thrifty thinking can save the day.
What Every Kids Wants
Think about the things that draw your kids in every time you go to the store. Those large cages filled with giant bouncing balls are always a hit and at $2 to $3 each, a real bargain. Bubbles are another fun activity that even adults don't outgrow. You can look for fun kit with different kinds of wands and blowers. Add a giant refill bottle of bubbles and you're golden.
Think Used
If the situation will allow, used gifts can be a great money saver. Yard sales and thrift shops can be great places to find deals on name brand toys you couldn't afford to buy new. If you have a friend who is planning a yard sale and you know takes great care of her stuff, ask her to let you shop a day ahead of schedule to buy the items you want. Always check to make sure all the important pieces are there before buying anything used.
Homemade Magic
If you are crafty, you can crochet or knit some amazing stuffed animals. You can find patterns online for free and pick up the materials for a few dollars. Make up a few in advance so you aren't caught off guard. Those of you who like to sew can make stuffed toys, doll clothes even bean bags pretty quickly. For the cooks in the crowd, whip up a batch of cookies or brownies for the birthday child and package them in a pretty reusable container the child might enjoy like a pail and shovel for using at the beach. You can find these at dollar stores.
Give Your Time
If money is really tight, offer a gift of your time. Offer to take the child for a special overnight visit where you just spend one-on-one time together doing things you enjoy together. Teach the child to do something you enjoy. This could be cooking, fishing or any other activity the two of you can share. Not only could you be passing on life skills but you'll be building treasured memories and there is no price tag you can put on that.