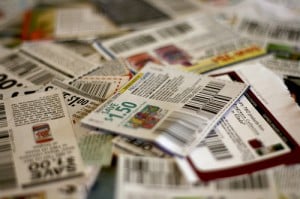 In an earlier post, I discussed where to find coupons to help you cut your grocery bill. By groceries, I am also including those things we shop for regularly like pet supplies, personal hygiene products and baby care items. Most people tend to pick these up weekly or monthly when they do their grocery shopping and there are coupons for many of these items too.
Making the most of your coupons is an acquired skill, practiced regularly and honed over time. Each week presents an opportunity to improve your skills and enlarge your savings. The key to making it work is understanding how the coupon game is played.
Couple Coupons with Sales
Manufacturers and retail outlets print coupons to get you to buy their products. Stores have sales to get you to buy their products. These events happen in cycles, especially for products people buy frequently like dish soap and laundry detergent. The key is plan ahead; match the coupon to the sale and stock up.
If you use Tide laundry soap for example, you can find coupons for it about every six weeks. When it goes on sale at your favorite store, buy enough to get you through to the next sale. By using the coupon when the item is on sale you can greatly increase your savings on the item. By learning the patterns and buying in bulk, you will never have to pay full price again.
Coupons for Barter
There will always be coupons in your flyers that you don't use. Maybe you don't own a pet or have a baby in your life at this time but someone does. Find or set up a coupon swap in your area. There are lots of ways to do this.
Coupon Swap
If you have a group of people who gather regularly for whatever reason, find out if they would be interested in d a weekly swap. It could be all the girls at your office, the moms who sit in the lobby during gymnastics practice, maybe even the entire congregation from church. Everyone brings their unwanted coupons and swaps what they don't want for something they do.
Coupon Train
This is fun for friends and family who live a long way from one another. Collect a list of names and addresses of those who want to participate. The first person puts all her coupons in an envelope and mails it to the next name on the list. The next person takes out what they want and adds their own unwanted coupons and mails it to the next person. It adds a little excitement to your day when you find the envelope in your mail.