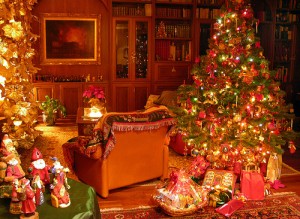 We are often scrambling at the holidays for last minutes gifts or something spectacular for that hard-to-buy for individual. Why do we punish ourselves like this? By and large, we buy gifts for the same people every year. There may be one or two additions but we pretty much know who we are going to buy for. It should come as no surprise in December that we need a gift for Aunt Mable or a little something for the newspaper delivery person.
Plan Who to Buy For
Planning ahead helps you keep your spending under control. Start by making a list of all the people you absolutely have to buy to buy. This would include:
Members of your immediate family such as spouse, children or parents
Extended family members like siblings and in-laws
Friends but keep it to those you are closest to for this list
The next list is the "I'd like to if I can afford it" list. People on this list would be:
Casual friends
Your boss and coworkers
Service providers like the trash collection men, the newspaper person, the mail man, your beautician
Naturally some of these people on the maybe list might rate your definitely list. Who goes where is up to you. The idea is to make the list as complete as possible.
Set a Budget
You know better than anyone else what you can afford to spend. It may have been your practice to set a total dollar limit for the whole shebang. The risk there is if you spend too much on a few gifts, you may not have enough left to buy for everyone else on your list. That's how we end up going over budget. Instead, try setting a dollar amount for each person and make sure the total fits within your overall budget. If you really want to get one person a special present that is expensive, then trim a few dollars off what you spend on everyone else or find a way to earn the extra cash.
Plan What to Buy
Once you have your list of recipients and a budget to work with, start planning the actual items you want to get for each of them. If your son wants an MP3 player more than anything else, put it on the list. Watch for one to go on sale and pick it up in August if you can. Work your way through the list, checking names off as you go.
If you start early in the year, the end result is far more satisfying. You get something for everyone on your list. You are pleased with your selections. You have spread the expense out over several months so your budget hasn't taken a major hit and your credit cards aren't melting. There's no fighting the crowds in the bad weather hunting for that last minute gift. You can actually enjoy the holidays.