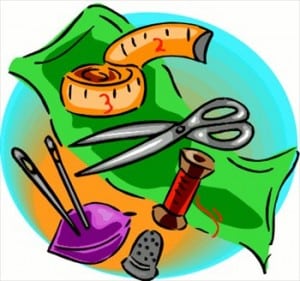 Some articles of clothing are too pretty or too sentimental to part with. They might be unique items like an exquisite kimono or our high school letterman's jacket. Since we don't wear the items any more, we don't necessarily want them taking up our precious closet space but we don't want to get rid of them either.
Wall Art
You can make a wall hanging out them. Find a plain background and a simple frame to accent your garment and use it as a piece of wall art. If you have several items, you can make a series of hangings and line a large wall or a hallway with them. You'll be reminded of the happy memories it holds every time you see it.
Fancy sleeveless dresses with flaring skirts make wonderful wall hangings for over a bed. You can use a curtain rod to support the dress through the shoulders. Tack the skirt out along the wall so that it is flared. If the skirt is large enough, it might span the width of the bed. For a fun decorating touch, match the bed spread and pillow shams to the color of the dress and hang the dress low enough that it meets the bed, giving the illusion that the dress is the headboard.
Quilting
Quilting is becoming a lost art. If you know how to do this, using sentimental groups of clothing might be the perfect material for your next project. If you don't know how, perhaps you can find someone to do it for you.
A quilt made from your child's baby clothes and favorite blankets is a keepsake you and she will treasure for years. For adults, favorite t-shirts can make a fun quilt. You can even cut out the stains or tears and just use the section that gives the t-shirt significance.
Pillows
Pillows have been made from old clothes for eons. You can use a favorite t-shirt, sew the neck and sleeve opening closed, stuff it and sew the bottom shut. If you want you can embellish it with trim or tassels. The whole project can take less than an hour.
Much like a quilt, you can use scraps from different pieces of clothing to sew a pillow loaded with memory. A swatch from dad' favorite flannel, a square cut from mom's kitchen apron, even the pocket from a favorite sweater can be used to make your sentimental memory pillow.