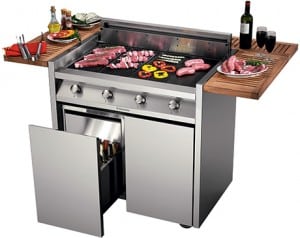 Do you want a few quick and easy recipes for your 4th of July Celebration? Here are a few quick and easy recipes that will surely impress your guests.
Sassy Sausage
What you need:
1 jar of grape jelly (Not jam)
1 bottle of BBQ sauce
2 packages of cocktail sausages
In a saucepan, combine the jelly and the BBQ sauce. Cook on medium heat, and stir until the jelly is completely melted down. Add the sausages, and simmer for 15 or so minutes.
Meaty Taco Balls
What you need:
2 pounds of hamburger
1 egg
1/4 cup of bread crumbs
1 taco season packet
Mix together all ingredients. Form meat mixture into bite sized meatballs. Plan in a sprayed baking dish, and bake at 375 for 15-20 minutes.
Grilled Honey Dijon Chicken
What you need:
6-8 boneless, skinless chicken breasts
1 cup of honey
1 cup of Dijon Mustard
Mix together the honey and Dijon. Place your chicken in a baking dish. Pour mixture over chicken. Cover and refrigerate for 20 minutes. Flip chicken and refrigerate for an additional 20 minutes. Grill on each side for 6-12 minutes per side, depending on the thickness of the chicken breast.
Artichoke Salad
What you need:
1 can of artichoke hearts, drained and chopped roughly
1 head of romaine lettuce
1 cup of cherry tomatoes, cut in half
Dressing:
What you need:

1/2 cup Italian dressing
1/2 cup ranch dressing
1/2 cup Parmesan cheese
Mix together salad ingredients, in a large salad bowl. In a small bowl, mix together all of the dressing ingredients. Drizzle dressing over salad and lightly toss to coat. Chill for 30 minutes.
Refreshing Chocolate Strawberry Trifle
What you need:
2 boxes of instant Chocolate pudding
1 pound cake (Store bought works great for this)
1 tub of whipped topping
2 pounds of fresh strawberries, sliced
Large punch bowl
Prepare pudding as per directions on box. Slice the pound cake into 1 inch thick slices, and begin layering the ingredients, except the whipping topping. Place one layer of cake, followed by pudding, followed by strawberries. Repeat until out of ingredients. When ready to serve, top with whipped topping.
Non-Alcoholic Pina Colada Punch (Great treat for the kids)
What you need:
1 can of pineapple slices
2 quarts Sprite or 7-up
2 quarts pineapple juice.
On a cookie sheet lined with wax paper, freeze pineapple rings for 1 hour. Mix together all other ingredients when ready to serve. Add in the pineapple rings, To keep punch chilled.
With these quick and easy recipes, you can spend more time our in the backyard with family and friends instead of cooking in the kitchen!
Happy 4th, and be safe!