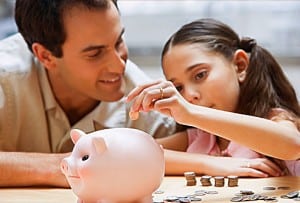 Back in the 50's, living on one income was normal. Things didn't seem so tight, and everyone played a roll in the household. As the generations went by, there became more two income families. Employment was thriving, and if you wanted a job, you could find one. Within the last several years, businesses and the economy have begun to crash. Many families, live on one income, due to one reason or another. With the financial crisis we are facing, all of us could use a few tips on how to live comfortably, but within our means. Since we are a one income family, I thought I'd share a few tips that have helped us to still enjoy life, without putting ourselves into a black hole of debt.
Figure Out Your "True" Budget
Sit down and figure out exactly what you NEED. Food is a need. Rent/mortgage is a need. Paying those credit cards is a need. Power is a NEED. Cable is a WANT! Starbuck is a WANT! Make a list of only the needs, and compare it to your income. This is your first step.
Once you've established your true budget, now you can get creative.
Start Couponing
Couponing is all the rage right now. Why? Because it has potential of saving you money. With many of us struggling, every penny counts. My tip for couponing… and this may be one of the best tips you'll ever get… is have fun with it. I treat it as a scavenger hunt to saving money. Don't stress about it, don't scam, and always leave enough for someone else. Following those guidelines will not only save you money, but it will make you feel good about being fair. If I know I need something, I can search for a coupon for it. Sometimes I find one, sometimes I don't. But even that small stack can start to add up.
Find Free Fun
No matter where you live, you can find free entertainment nearby. Here's where your creativity comes into play.
Tip 1: Doing research, pays off. Search the web for great free activities, during nap time. check often because venues change.
Tip 2: Even if you initially think something sounds cheesy, it can't hurt to try it. Plus, there's no money lost. If there's an outdoor movie night (and many are free), check it out. Sure it may be a movie from the 60's, but the kids will love it, and I'm sure you will too. Outdoor concerts are also a great free activity
Tip 3: Check out local museums, zoos, and science centers. Many offer a few days a month that allow you to visit for free.
Go Off Season, And Save
By saving up for that big trip, you not only avoid strapping yourself for bills, you are also able to plan things out a little better. You have time to do your research. Going during the off season (Disneyland, for example) will save you BIG!
Save Up For The Big Purchases
I know! You Reeealy want that new 3D TV, but by saving, you're not putting your family in a bad financial spot. PLUS, giving yourself a little time, will almost ensure the price to drop, and any "kinks" to be worked out of that new model.
I know these seem like simple steps, but by applying yourself you can not only live on one income, you can thrive!
Image Credit: WebMd