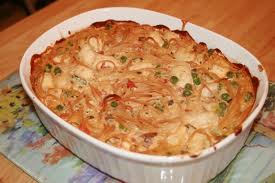 by Jessica B
You can do a lot with a whole chicken simply sprinkled with your favorite seasoning salt. However you choose to bake your chicken, there is plenty of meat to go around for most of the week. You can eat baked chicken with sides or you can enjoy the ultimate comfort food of chicken and dumplings. During the summer, add some mayo, pecans, apples, and raisins for a cold chicken salad.
A hearty recipe that is the biggest bang for your buck is chicken rotel. When this dish is combined with a salad and bread, it definitely stretches the chicken to feed a small family throughout the week or it is a great dish to feed a large crowd.
What You Will Need:
– 1 whole fryer or roasting hen (or 3-4 large chicken breasts)
– Your favorite seasoning salt
– 16 oz. spaghetti
– 10 oz. can of Rotel tomatoes (Mild or Original)
– 10.75 oz. can of cream of mushroom soup
– 16 oz. Velveeta cheese loaf
– Remaining chicken broth (or 1 can chicken broth)
1. Bake your chicken using a cast iron dutch oven at 350 degrees for 1.5 to 2 hours or let it slow cook on low in a crock pot for 6-8 hours.
2. Once cooked, clean it by removing all skin and bones.
3. Shred or chop all white and dark meat.
4. Save your chicken broth. (If you prefer, you can boil 3-4 large chicken breasts in place of using a whole chicken.)
5. Boil your favorite pasta according to directions, spaghetti is most commonly used.
6. While your pasta is boiling, heat the Rotel tomatoes, cream of mushroom soup, and Velveeta cheese in a large stock pot.
7. Once your sauce mixture is heated thoroughly, add your shredded or cubed chicken.
8. Drain your pasta and add it to your chicken sauce mixture.
9. The dish may be thick, so add chicken broth that remained from baking your whole chicken or you can use canned chicken broth to get the consistency you desire.
10. If you prefer, you can place the chicken rotel in a 13×9 serving dish and place additional slices of Velveeta over the top.
11. You can then bake the dish at 350 degrees for a few minutes to melt the topping.
Leftovers can easily be frozen in small portions for quick single meals or in a large portion for an entire family meal.