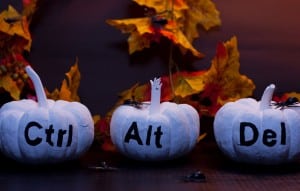 Fall is here, which means it is time to put out your pumpkins, leaves, gourds, and other autumn decorations. It does not have to cost a small fortune to decorate your home for fall. Today, we are giving you some suggested simple, inexpensive, DIY fall decorations that will have your home looking festive in no time! Give these easy DIY fall decorations a try!
DIY Fall Decorations – Fall Decorating Ideas:
Purchase various pumpkins and gourds at a local farm stand for fall room decor DIY! You will probably be able to get the pumpkins and gourds for a low price. You can stack them in vases inside, or arrange them outside on your porch. If you are keeping them inside, we recommend preserving them by cleaning them with a mixed bleach solution. When they are dry, spray them with a clear preserving spray. This will delay the growth of mold.
Did you know that you can get fake fall leaves at craft stores and decoupage  them onto mason jars? Inside the mason jar, you can place a real or fake tea light for the perfect DIY Fall Decorations. The light will shine through the fake leaves creating a nice, autumn ambiance in your home.
An idea for cheap fall table decorations requires a deep vase, dried corn, dried red beans, and dried green lentils. Layer the corn, beans, and lentils in your vase and place a candle on top. Tie a bow made of twine at the top of your vase and you have a nice candle holder.
A simple idea for DIY fall decor requires leaves, glitter, ribbon, and glue. Gently cover your leaves in glue, and then sprinkle fall colored glitter (gold, brown, orange, etc.) over the glue. Allow to dry and then punch a small hole near the stem. Carefully attach a ribbon and hang from your ceiling or mantel.
Make a candy corn banner out of a white paper plate. Paint an orange circle around the outer perimeter of the plate, and then a yellow circle inside the orange circle. The white center will be the end of the candy corn. When the paint dries, cut it as if you were cutting a pieces (triangles). Attach a ribbon to the "candy corn pieces." There you have it- simple DIY fall room decor!