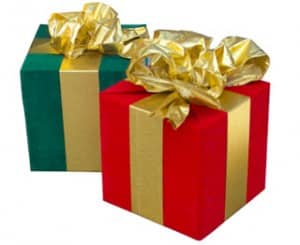 Christmas is just 2 weeks from today! Can you believe that? At this point, you may already have purchased all (or nearly all) of your presents. Or, you may have a few final gifts left to purchase. One of the last things most people do before Christmas is wrap the presents. For some, present wrapping is a fun experience. Other people loathe wrapping presents and would prefer to shove their gifts into bags. It can get costly to purchase wrapping paper and all the frills to make your packages look extra special. If you struggle with creativity, it can be hard to think of unusual gift wrapping ideas. Today, we are giving you some suggestions for inexpensive and unique gift wrapping ideas. Check them out below!
Holidays and Christmas Gift Wrapping Ideas:
You can use an empty toilet paper tube for small gifts. This is a super cheap and creative way to wrap small gifts. Flatten out the tube and bend the ends over each other. You can wrap ribbon or craft paper over the tube and decorate.
You can get plain brown paper for a very low cost. Sounds plain and boring, doesn't it? You can add a ton of pizzazz by using a pencil eraser and an ink pad! Just create dots with the eraser and ink pad, or use a metallic sharpie and draw little holiday designs. You could also glue tiny pom poms onto the paper to add color and texture. Washi tape is another option!
An extremely cheap way to wrap presents is to use old newspaper. You could also use newspaper comics if you want your present to have colored wrapped. Add ribbon and bows for inexpensive way to add a little color.
If you want to add inexpensive frills to your presents, use items found outside like pine cones, branches, berries, leaves, or whatever you can find.
Recycle your wrapping paper! If it is in good shape, use it over again. It is good for the planet!
If you have additional affordable and unique gift wrapping ideas, please share them in the comment section.