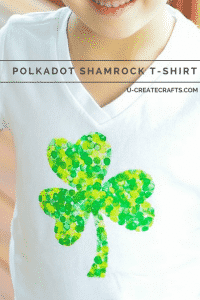 This year, St Patrick's Day falls on Thursday, March 17. This may not be a holiday that people go 'all out' for, but some enjoy treating it as a special occasion (especially those who are Irish or who identify as Irish for that day!) If you want to make the day special, you can do so in a variety of ways. You can make St Patrick's Day themed treats, drinks, and meals. You can decorate your home in four-leaf clovers and leprechauns. You could even make St Patricks Day shirts! Today, we are going to give you some tips on how to make DIY shirts that are perfect for St Paddy's day celebrations!
Make Your Own St Patricks Day shirts on a budget:
You can get a solid colored t-shirt at your local craft store for a relatively low price (think Michaels, Hobby Lobby, AC Moore, or JoAnn Fabrics) and be sure to check for coupons before you shop! Then, purchase a cute (and affordable) iron on St Paddys Day themed applique from an Etsy shop such as OnceUponADesign. Simple, affordable, and customized to your taste.
Print a shamrock template off from your computer and trace it onto green felt. Cut it out, then use craft glue to attach it to a plain shirt. You can add stitching around the perimeter of the shamrock. This can add a bit of extra color and contrast, and also helps it stay in place. Check out this blog for a visual.
If you have green fabric paint laying around (or you want to go out and purchase some), you can make a polka dot shamrock shirt! This shirt is easy to make and fun for kids to help with! You just need a shirt, fabric paint, pencils with new erasers or q-tips, and a stencil. For more detailed information about how to make a polka dot shamrock shirt, check out this blog.