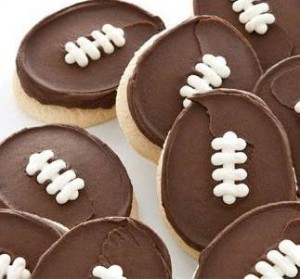 The 50th super bowl will take place this Sunday. If you are like many football fans throughout the United States, you will be glued to your television during the game. However, some people watch the super bowl just for the commercials or for the musical halftime show. Of course, food is also an important part of watching the super bowl for many people. From taco dip to burgers, sweet treats to chips and salsa, snack food is a must for super bowl parties. Today, we are giving you tips on how to save money on groceries and recommending delicious dishes you can put together for your super bowl celebration.
Awesome super bowl treat recipes and tips for saving money on groceries for these recipes!
Check out these yummy and inexpensive rice crispy treats shaped like panthers football jerseys! If you are not a panthers fan, follow these directions to create rice krispy broncos jerseys. You can use this coupon to get $0.50 off your purchase of one box of rice krispies cereal. If you want to save additional money on the groceries you will need to make this recipe, shop at stores like Aldis or Walmart to get the lowest prices.
We think this recipe for pepperoni pizza football cheese dip will be a hit at any super bowl party! Perfect for dipping veggies, crackers,pretzels, and more. You can use this coupon to save $1.00 on your purchase of TWO Hormel pepperoni products. If you would prefer to use turkey bacon is place of regular bacon, you can use this Butterball coupon to save $0.55 on a package of turkey bacon.
Try out this delicious recipe for a cookies and cream cheese football. Yum Yum. You can dip apples, pretzels, vanilla wafers, and other cookies in this cookies and cream cheese football. You can take advantage of this coupon to get $0.35 off your purchase of Country Crock spread.
If you have any tips for saving money on groceries, feel free to share them with your fellow Sample Stuff followers!