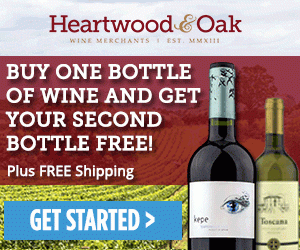 Hey, wine lovers! We have a great deal to tell you about. You will definitely want to check this out! Heartwood & Oak is currently running a special offer on their delicious fine wines. You can currently get two bottles of Heartwood & Oak wine for just $9.95. You will also get FREE shipping through FedEx or United Parcel Service with your purchase! You can choose from either two refreshing and crisp white wines, two bold and smooth red wines, or one of each. You can learn more about these specific wines on the Heartwood & Oak website. They provide detailed descriptions of each fine wine.
Once you place your order, you will be automatically enrolled in the Heartwood & Oak wine program which will send you a curated 6-set of wine bottles at $13.33 per bottle with shipping costing $9.95. You are able to opt out of the ongoing wine program if you just want to receive the special introductory offer. If you do choose to continue on with the special wine program, you will also receive special member offers that you would not have access to otherwise.
Be sure to take advantage of this great offer on Heartwood & Oak wines while it is still available!