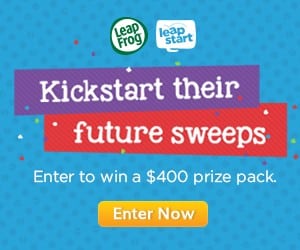 Enter the LeapFrog Giveaway To Win $400!
LeapFrog is currently offering a very special giveaway that you can enter. If you are a winner, you will receive a prize package with $400.00 worth of LeapFrog products. These products include LeapStart Learning Systems, LeapStart Activity Books, headphones, and DVDs.
Are you wondering how you can enter this awesome giveaway? First, post a video or photo to your Instagram or Twitter account of your child in a #LeapStart learning moment. Be sure to use the hashtag #LeapStart when you post your photo or video. Then, enter your email address to be officially entered in this giveaway. If you do not have a Twitter or Instagram account, you can enter the giveaway by sending an email to community@leapfrog.com  The subject should be: 2016 LeapStart Kickstart Their Future Sweepstakes. You can enter the giveaway during any Weekly Entry Period to be entered into the drawing. Don't forget to include your first and last name as well as your email address.
In order to enter the giveaway, you must be a resident of the United States. The sweepstakes entry period is from June 7, 2016 through July 18, 2016. During the entry period, one winner will be selected each week (totaling 6 prize pack winners). You can enter the giveaway each week for a new chance to win.