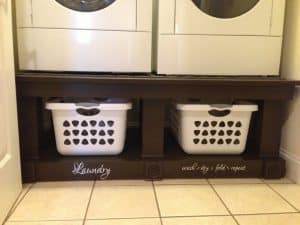 Did you know that you can easily and affordably build a laundry pedestal right in your own home? It's true! It is very inexpensive to create your own and customize it to your specific tastes. These laundry room pedestals are also functional and helpful with organization. You can use them to store your dirty laundry before your wash it or your clean laundry after it comes out of the dryer. It should cost your approximately $125 and take 2 days to complete. Check out the list below to find out what supplies you need to create your own laundry pedestal!
Laundry Pedestal Supplies:
2 – sheets of 3/4″ Medium Density Fibreboard or Plywood
5 – 2×4s that are 8 feet long
1 – 4×4 post that is 4 feet long
1 – stick of base cap moulding that is 6 feet long
4 – angle brackets
3″ screws
2″ Screws
Glue
Finish Nails
Wood Filler
Sandpaper
Laundry Pedestal Tools:
Tape Measure
Speed Square
Hammer
Drill
Circular Saw
Miter Saw
Brad Nailer
Sander
Level
Drill Bit Set
Ear protection
Safety goggles
Pencil
Measure to the specific perimeters of your washer and dryer.
10 – 2×4 @ 25″ (Joists)
4 – 2×4 @ 60″ (Sides of Floor)
4 – 4×4 Posts (or 8 2x4s) @ 11″ (Posts)
2 – 3/4″ Plywood or MDF @ 28″ x 60″ (Decking)
moulding cut it to fit
You can find complete directions here to learn more about how to build your own laundry pedestal!