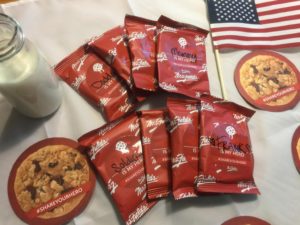 Who likes chocolate chip cookies? How about delicious and FREE cookies? Right now, you can get a FREE Mrs Fields cookie just for filling out a brief form about your hero! In addition to your FREE cookie, you will also receive a coupon for $1.00 off your purchase of a box of Mrs Fields cookies.
#SHAREYOURHERO For A FREE Mrs Fields Cookie
By writing about your hero and completing the form, your hero will be eligible to win $1,000 for being a hero, a hometown hero celebration for their good work, and a $5,000 donation to the charity of their choice. Fill out the form by describing your hero and what makes that person a hero to you. Be sure to enter your name, a valid mailing address, and your email address. After you have submitted your form, a coupon download offer should pop up. Download and print the coupon to receive $1.00 off your box of Mrs Fields cookies. This coupon can be redeemed in stores that sell Mrs Fields cookies. When you get your FREE cookie, don't forget to take a picture and use the hashtag #ShareYourHero Let everyone know who your hero is and that you are enjoying a fresh and delicious chocolate chip cookie in their honor! Thank you to DaddleDo for finding this freebie!