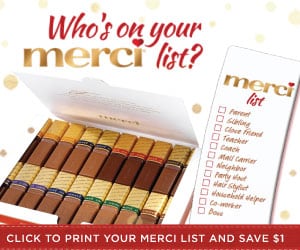 Before we know it, the holiday season will be upon is. For many, it feels like it already is! Most department stores are filled to the brim with Christmas decorations, festive apparel, and so much more. If you have not already started your holiday shopping, now is a great time to get started!
Freebie List From Merci Chocolate And Coupon
Companies such as Merci Chocolate want to help you prepare for your holiday shopping with a FREE checklist of people you might need to buy presents for this year. In addition to the list, you will also receive a Merci chocolate coupon for $1.00 off your purchase of a box of Merci's fine (and delicious!) European chocolates. You can even purchase a special personalized box of Merci chocolates for the special people in your life! If you have never had Merci chocolates before, you are certainly missing out! Merci makes delicious European chocolates from the finest and highest quality ingredients available. Any chocolate lover would be grateful to receive a delicious box of chocolates from Merci! Take advantage of this Merci coupon and FREE check list offer before time runs out! Give the gift of chocolate- a great gift for so many special people in your life.