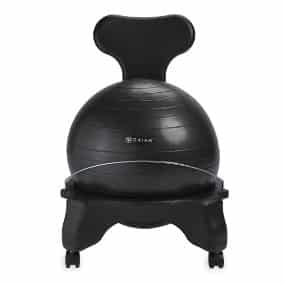 The new year is here, and many of us have made New Year's resolutions to lose weight or improve our health. If improving your health and fitness is on your list of goals for 2017, then be sure to check out this Amazon Deal of the Day on Gaiam Balance Ball Chairs!
Save $25 Off A Gaiam Balance Ball Chairs
This product is excellent to have in your home office or even your work office. The Gaiam Balance Ball Chair helps to properly align your spine, strengthen your core, relieve pain in your back and neck, and improve your overall wellness. The Balance Ball Chair was created for individuals who are between 5-feet tall and 5- feet 11- inches tall. It is suitable for individuals up to 300 lbs. This amazing product typically retails for $79.98, but if you hurry you can purchase it for just $54.99! The Balance Ball Chair can be purchased in a variety of colors to coordinate with your home decor. When you order the Gaiam Balance Ball Chair, you will receive the inflatable ball, the chair frame, and an air pump for easy inflation right at home. Amazon customers agree that this is a great product that really can help improve back pain and improve spine alignment and more.