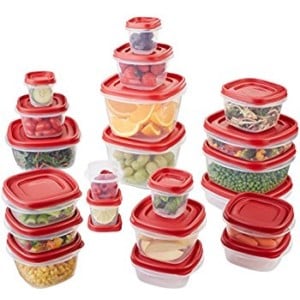 Memorial Day weekend kicks off in just one more day!
For most people, it is a weekend full of cookouts, swimming, enjoying time with friends and family, time spent outdoors, and much more! A Memorial Day weekend cookout or picnic would not be complete without some great food.
But, what do you do with all those tasty leftovers?
Need An Affordable Rubbermaid Storage Set and Not Sure Where To Find It? You're Welcome!
Right now, you can take advantage of an awesome Amazon Deal of the Day on a 42 piece Rubbermaid storage set! Today only (Thursday, May 25), you can get this 42 piece food storage set for for just $19.87. This set typically retails for $23.38. If you hurry, you can get the set for 15% off.
This set is great when you have limited storage space because the lids stack and lock together. The containers stack too! You can nest the smaller containers inside the larger ones for optimal convenience and storage. The Rubbermaid containers are dishwasher safe, freezable, and are BPA free. This set includes: 5 (0.5 Cup) containers, 5 (1.25 Cup) containers, 5 (2 Cup) containers, 2 (3 Cup) containers, 2 (5 Cup) containers, 2 (7 Cup) containers, and a lid for each container!
If you purchase this great Amazon Deal of the Day, you will have plenty of containers to store your leftover Memorial Day foods! Snag this great deal while you still can!