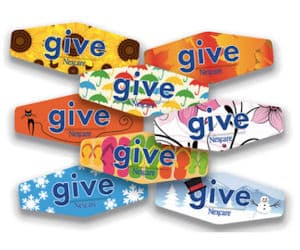 Snag Your FREE Sample Pack Of Nexcare Bandaids
If you have young children, there is no doubt that you go through band aids quickly and frequently. You really can never have too many band aids in your home!
Right now, you can take advantage of this nice little freebie offer for a sample pack of Nexcare Give band aids. These band aids were inspired by the act of giving. If you pledge to donate blood, you can get your FREE sample pack of Nexcare Give band aids in your mailbox within 8 to 10 weeks. These bandages have unique and fun designs on them that represent the global need for donated blood.