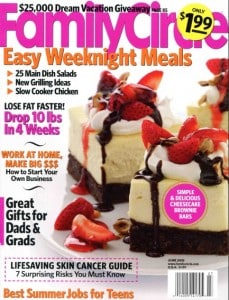 Little Known Way to Get FREE Subscription to Family Circle Magazine
This awesome freebie offer is back again for a limited time! Right now, you can sign up to receive your FREE one year subscription to Family Circle magazine!
In this magazine, you will find tons of delicious and easy to make recipes, fun ideas for you and your entire family, health and fitness tips, family information and advice, and so much more. Signing up for your subscription is so easy. Just enter your mailing info and submit your request. After your request has been processed, you should begin to receive copies of Family Circle each month.