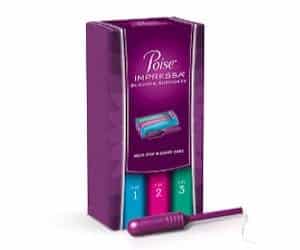 You're embarrassed.
I completely understand why.
Leaks and drips can be the things of nightmares for women who experience urinary incontinence.
It isn't something most women like to talk about, but it is something that many women experience especially as they age.
We Can Get A Free Poise Impressa Kit In The Mail In Just A Few Weeks
For those of us dealing with urinary incontinence, check out this freebie offer from Poise.
Right now, we can get a FREE sample kit of the Poise Impressa sizing kit mailed directly to you. You will receive 2 bladder sizes in each of 3 different sizes. You will also receive money saving coupons and easy to follow directions.