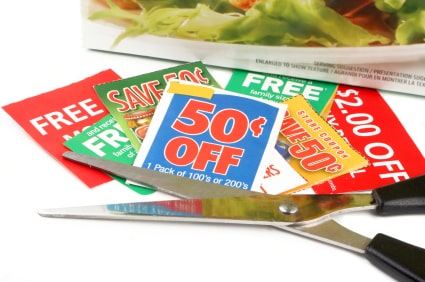 So, there you are, looking over your grocery budget, and you can't believe how much you're spending. You've thought about using coupons, but what a hassle, right? Wrong! It's really not as hard as you may think.
Over the next several weeks, I'm going to walk you through couponing.
Where To Start
The Paper
This one seems like the obvious, right? Well, there are a lot of options when it comes to using the newspaper.
First off, don't fall for the  "It's only 3 cents more if you get the paper all week" trap. Sure, it is a great deal, IF you are actually going to read that paper, but if you aren't, why waste that 3 cents. It's extra trash and clutter around your house, and besides the local news (Which you can get online), there's not much to offer as far as saving money is concerned. Stick to just Sundays. I actually get two Sunday papers a week. It costs me $2 a week, but I save at least 30 times that.
If you want to save even more money, there are other options to get those Sunday coupons.
Ask your neighbors. Many of them, just toss out their coupons. If you are comfortable with this, you'll most likely have at least a handful of people more than happy to save them for you.
Another option is to head out bright and early to a few of your local McDonald, Starbucks etc, and ask them for the coupon insert. They are usually happy to share.
Now the last option is to "Recycle bin" dive. I'll be honest, this is not an option I have ever done, but I have heard of people doing it. On recycling day, they walk the neighborhood, and go through the recycling bins.
Magazines
I can't even begin to tell you how many coupons I've used from magazines. I follow "Freebie" sites, and have acquired quite a collection of wonderful "FREE" magazines over the years. I ALWAYS flip through them within the first day or two. My first sweep is to look at the coupons, the second is to tear out articles, recipes, and crafts I like.
BUT…if you are looking for the ultimate coupon magazine. it's "All You", hands down. It is one of the slightly pricey subscriptions, but it is SO worth it. Each issue has between $50 and $150+ dollars worth of coupons. They also have a lot of fantastic tips, and freebies. I love "All You"!
Online
In the days of technology, many new options for couponing have come about. We are no longer in the days of "Just the Sunday Paper". If you really want a coupon, 9 out of 10 times, you can find one online. I put together a list of my favorites.
1.) coupons.com
I use this at least twice a month. It updates at the beginning of each month, and restocks new coupons.  My average monthly savings from here is about $50.
2.) redplum.com
I visit this at least twice a month as well. It has a great selection, but I love it's selection on toiletries, and bath and body, the most. My Average Monthly savings from here is $20-$30 .
3.) eat better america
This does have a smaller selection than most of the others, but when you find one of their great coupons, it's well worth it. My average monthly savings is between $5 and $10.
4.) ValPak
I love Valpak! It has local printable coupons, as well as general. It's fantastic, and very easy to print them off. My average monthly savings is between $10-$50, depending on if I use one of their car coupons, or restaurant coupons.
5.) Smartsource
I love, love, love Smartsource. The one thing you need to know before using this is that you will need to download their coupon printing software, but it's never had a bad effect on my computer, and once it's installed, you can just scroll through the site and click and print.  My average monthly savings is between $30-$50.
6.) target.com
I do a huge part of my shopping at Super Target! I LOVE them! The coupons are fantastic. I usually save at least $50 a month with these coupons.
After sitting down and doing the math and averaging out what I spend each month (and what I save), here are the totals:
Groceries –  $573
Toiletries, laundry soaps, and paper goods –  $95
Random stuff like clothing, eating out…you know, the extras – $100
TOTAL: $786
Now here's what I spend after coupons:
Groceries –  $236
Toiletries, laundry soap, and paper goods – $27
Random Stuff – $21
TOTAL: $284
TOTAL SAVINGS: $502
It does take a little time to do this, but you CAN do it! I spend about an hour to hour and a half each Sunday clipping, printing, and sorting my coupons. I bring my coupon binder with me everywhere! I have also made sure that I have $100 set aside for those REALLY good deals so I can stock up.
Don't be afraid to shop in the clearance area. MOST coupons can be used on those items too, and usually there isn't a thing wrong with them. Right now Target has TONS of clearance. As a matter of fact, I had 6 coupons today(I stacked up) for $1.50 off of a 3 pack of Airwick air fresheners. They were on clearance for $1.48. I bought 6 of them (18 air fresheners) for a profit of 12 cents. That's right, I made 12 cents on the deal. The key to these deals is that sometimes you need to be patient…but they will come around. 🙂
Now, as wonderful as online coupons are, make sure you check with your stores to find out their policy on printed coupons. Not all stores take them. You also have to be careful of fraudulent coupons, and trust me, there are a lot out there. I always do a quick Google search, if I'm at a new couponing site, just to see if they've ever been reported. It can't hurt to check. The ones listed above, are reliable.
Ask The Manufacture
A lot of people don't know that you can request coupons from a lot of manufactures. If your family loves a certain product, contact the company, give them your feedback, and simply ask for a few coupons. You can call, write a letter, or even email them. You can find all of the contact information on their websites, or often on the packaging.
Why do they do this? Simple! It's GREAT advertising. They want you to keep buying their product. Many times they even reward your loyalty, by sending you coupons for free products.
Now that you know where to look, you're ready to get started on your couponing adventure. In no time, you'll be spending less.