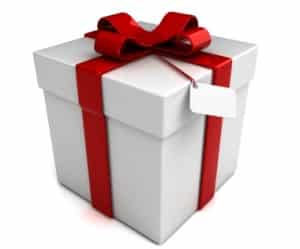 If you are anything like me, you are constantly running to the store before a child's birthday party and paying more than you had planned. By the time you add up the cost of the gift (which has to be the latest craze, of course), the card, the gift bag…and multiply that by the number of friends your children have…these parties can become a money pain.
One idea to help with these costs is to install a gift shelf. We keep our gift shelf in the basement, and we stock it with "standards": gifts for toddlers, gifts for kids (boys and girls), gifts for adults, and cards and gift bags for all occasions. All of the gifts for children are popular, but not a fad. If you buy trendy items, chances are they will go out of style before they are needed. All gifts should be bought during off seasons, when on sale, or on clearance. That way, when a party rolls around, your child goes downstairs, picks out a gift that is age appropriate and fits the child having the party, and off you go.
For adult gifts, we have found that keeping the standards of gift cards and wine are the best bet. So if it's a housewarming, going away, or birthday celebration, you will have something appropriate. Gift cards can be earned or purchased for a discount through credit card points, websites such as Swagbucks, and through deals offered by websites such as Groupon or Living Social. Wine can be purchased by the case for a cheaper amount than buying by the bottle, and many liquor stores will allow you to "mix and match" when putting together your case. Cards, gift bags, and tissue paper can be found in bulk at card outlets, and often on clearance at the end of a season.
The gift shelf will not only save you money when shopping for others, but will also save you gas money by reducing how often you run out to the store; a definite plus in our economy today. The only challenges are keeping the kids (and you!) out of the gift shelf, and staying organized. Nothing is a bigger money drain than finding a box full of outdated toys and 25 "happy retirement!" cards years after you set up your shelf! Good luck, happy shopping, and happy saving!