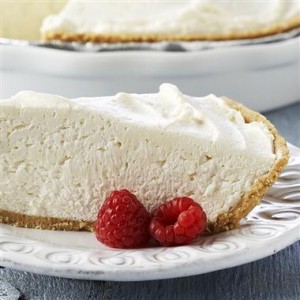 Food recipes aren't usually my thing, but when I came across this, I had to share. This recipe for cheesecake is just so simple I couldn't believe it. And because it has very few ingredients, it's inexpensive to make. Did I mention you won't need the oven? This is literally no sweat. Enjoy!
What you'll need:
1 (8 oz) package of cream cheese (soft and pliable)
1 (8 oz) container of Cool Whip (softened)
½ cup of sugar
1 heaping teaspoon of vanilla extract
1 (9 inch) graham cracker pie crust
1 can of pie filling or fruit topping of your choice
What to do:
Add together the cream cheese, sugar, and vanilla. Defrosted isn't good enough for the cream cheese. It's important to know that this ingredient must be very soft and easy to work with. Trust me; if it is stiff in any way, you are only giving yourself more work. The ingredients also say "heaping" (referring to the vanilla) because I always purposely overflow the teaspoon for a bit more vanilla kick.
Whip it until it's nice and smooth. Don't rush it; this may take a while. If you have an electric mixer, (table top KitchenAid, not a handheld) this'll make your job a whole lot easier. If you don't have one, go buy one; you'll wonder how you ever lived without it.
Add in the Cool Whip last. Once again, it's important that the Cool Whip is nice and soft or else mixing will be a huge pain. Then, beat the heck out of the mixture until it's nice and mixed and fluffy and creamy.
Pour the whole concoction into the pie crust and chill. I would say chill the cheesecake for about 2 hours. Top it with the pie filling or fruit topping. Chill again for about another ½ hour or just long enough so the topping isn't runny. And folks, that is it!
You will be hard pressed to find an easier tastier no-bake cheesecake out there. I swear it sounds too good to be true, but it is in fact very delicious. I can't say this recipe won't put on a few pounds, but buying low fat cream cheese and Cool Whip helps some in that regard. But in the end, the point of reading this is about saving money. Well, excluding the pie crust and topping, we're talking a whopping 4 ingredients. What can be more frugal than that?