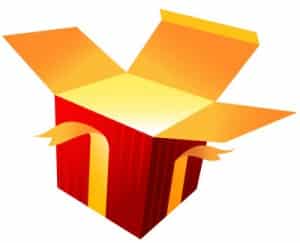 (Image Credit: Vector Diary)
Every child needs a little time to entertain themselves. I'm not talking about walking away from your child and letting them do as they please, I'm referring to expanding their imaginations. As a parent, I know there are times when they just need some quiet time to themselves. Typically it's after a long day, or when they are excited for an upcoming event.
When my children were around two, I came up with this clever little idea of the "Alone Box". It was a little plastic box filled with goodies to entertain them. I would be cleaning the kitchen and they would be sitting on the floor playing with the contents of this plastic box. Boy, oh boy, did they get creative.
How to build an "Alone Box"
For the young children:
Find a shoe box sized, plastic box, or container. Find some stickers to decorate the box with. Make it special. When they are part of putting it together, it becomes an even more enticing treat to play with. Go upstairs with your child and allow them to pick a few little toys to place in the box. Explain to them that that is their special box for their alone play time. This will get them excited about playing alone.
My special little "Mommy" touch, was to pick up a few age appropriate toys from the $ section of Target, the $ Store, and the party supply store. I'd sneak them into the box, for them to discover the next time the box was brought down. This was almost as good as Christmas to a two year old.
For the older Children:
As my girls get older, I update their "Alone Box". Less than a month ago, we finally replaced the old plastic box with a small toolbox. In their "Alone Box", we have paper, crayons, small crafts, a book or two, and a small puzzle.
Again, I like to add that special touch from "Mom". Now that they are older, I pick up some more "grown-up" items to place in the box. I put a small bead jewelry making kit in our eldest's box, and a small scrapbook set in our youngest's.
When it's "Quiet time", they each grab their box, and find a quiet place to explore their new treasures. Since this box was not an everyday thing, the contents always seemed new and exciting.