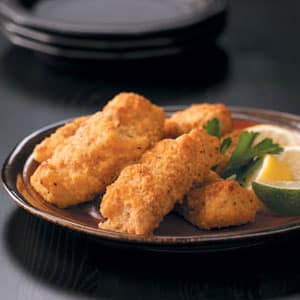 by Kelly Garcia
These snacks easily one-up the frozen fish sticks from the grocery. While traditional fish sticks are typically fried, try this oven-baked alternative for a healthier option. They offer the same quick and hearty joy as store-bought fish sticks, but they are healthier and better-tasting. Don't take my word for it – ask your kids after you've served these fish sticks for lunch. That's an ace in the hole!
Here are the ingredients:
2 eggs
1 lb of white fish cut into 1/2-inch fillets (hint: cod and tilapia are popular)
1/2 cup dry bread crumbs
1 cup unbleached all-purpose flour
1 tsp coarse salt
1 tsp pepper
1 tsp cumin
1 tsp parsley
1 tsp oregano
1 tbsp olive oil
Preparation:
1. Preheat the oven to 450 degrees. Place a layer of aluminum foil on a baking sheet and spray on a layer of cooking spray. Set aside.
2. In a shallow dish, beat the eggs thoroughly and season well with the coarse salt and pepper. Set aside. Pour the flour onto its own plate. Set aside. Pour the dry bread crumbs onto another plate and stir in the cumin, parsley, oregano and olive oil.
3. Lightly dip both sides of each fish fillet into the flour, the beaten eggs and the breadcrumb mixture, in that order. Make sure you cover each piece completely with the bread crumbs. Gently tap mixture onto fish to make sure it sticks.
4. Place each piece onto the prepared baking sheet. Make sure not to crowd the fish sticks. They should not be touching. Bake the sticks in the oven until lightly browned, about 15 – 20 minutes depending on your equipment. Turn the pieces over halfway through the cooking time for best results.
By the way…
* If you are looking for the healthiest choice, use whole wheat bread crumbs. Also, Japanese-style panko bread crumbs are ideal for extra crunch and also come in a whole wheat variety.
* No meal of fish sticks is complete without a good sauce for dipping, and ketchup is an old favorite with these snacks. For a twist of tartar to match your fish, try this quick formula. It can be easily whipped up while the fish sticks are in the oven.
Mix together the following ingredients in a bowl for a tasty tartar dip: (optional)
• 1 cup mayonnaise
• 2 tbsp chopped dill pickles
• 1 tbsp minced onion
• 2 tsp lemon juice (optional)
• salt and pepper
In a small bowl, mix together mayonnaise, chopped pickles, and minced onion. Stir in lemon juice. Season to taste with salt and pepper. Refrigerate for at least 1 hour before serving.
Enjoy!
Image Credit