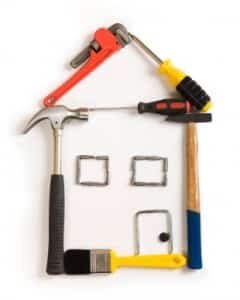 by Keith Wimble
Making improvements to a home does not necessarily mean it is necessary to spend a small fortune on the project. Options are available that can improve the home without taking the extreme measure of paying more than necessary. 
Do-It-Yourself
While some projects will require hiring a professional, many home improvement options are possible to manage personally. It is not necessary to hire someone to change the floors, paint the walls or reface the cabinets in the kitchen. By doing the project personally it will cut the cost of the project dramatically.
Projects that are best handled by professionals are those that have a high risk of injuries, like electrical work or work related to a gas stove. Most projects are safe and manageable on a personal level. In this way, the cost of installation is eliminated and the only price is the materials.
Refinish Instead of Replace
Many home improvement projects result in replacing items, but this is often not a necessity. While those cabinets might look a little tired and worn, the structure might still have a solidness that makes it possible to refinish for an updated appearance.
Whenever it is possible to refinish an item instead of replacing it, the cost will dramatically reduce. Home improvement does not necessarily mean tearing out all of the cabinets, counters, floors and items within the house. Getting the refinishing materials is much less expensive and can have amazing results.
Refinishing is particularly true of wood materials, such as wood floors and cabinets, because it is possible to sand down the current surface, stain the wood and then put on a finishing product to seal the wood for an updated style that looks brand new.
Avoid Costly Changes
While the goal of home improvement is making the house feel more comfortable, it is best to avoid high cost projects like tearing out a wall or putting in a new bedroom. These projects will often end up costing a great deal because it will require professional services to complete and will not often add to the value of the home.
Instead, work around the current structure of the house and use smaller projects whenever it is possible. While a few exceptions exist, such as replacing a roof if it has leaks in several areas, most costly changes are unnecessary and ultimately will not be worth the expense.
Shop Around
When looking for materials for a project or even when it is not possible to avoid hiring a professional, it is best to comparison shop. Shopping around will result in finding the lowest cost for the same quality materials.
Home improvement does not necessarily mean spending more than the budget. By carefully planning projects and doing as much work as possible personally, the expense can end up within a reasonable price range.