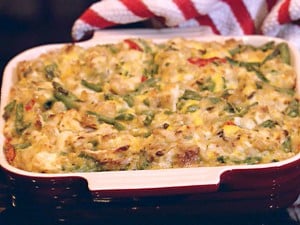 by Esther H.
When you are short on time and interested in a quick simple supper recipe, you should make a basic rice casserole for dinner. The casserole ingredients are often items that you have on hand, and the dish can easily be doubled for large families. The leftovers are delicious, and when you make this dish, you'll typically have plenty for another day of dining.
Rice Casserole Ingredients
2 cups minute rice
½ cup chopped white or yellow onions
2 tablespoons butter or margarine
¼ cup milk
2 cans cream of chicken soup
2 cups cheddar cheese
1 can chicken or tuna
Salt and pepper to taste
Directions
In a large pot, cook the minute rice according to the box's directions. If you don't have minute rice, then the recipe works fine with long grain rice. Be sure to cook your long grain rice thoroughly. In a separate frying pan, sauté the onions in the 2 tablespoons of butter or margarine until they are soft. Once your rice is cooked, you can add the onions, milk, 2 cans cream of chicken soup, cheddar cheese and canned chicken or tuna along with the salt and pepper.
Cover the pot and allow the ingredients to simmer at a low temperature. Be sure to stir the casserole occasionally. After you've blended the ingredients, your casserole is complete.
In order to serve a well-rounded meal, you can include a green salad for a healthy balance. When you use romaine or green leaf lettuce, you'll be including extra vitamins in your salad. You may then add tomatoes, green peppers, cucumbers and carrots. Be sure to offer your family a choice of salad dressings.
If you have a little more time, then you may consider adding semi-homemade dinner rolls to the rice casserole dish. With a basic dinner roll recipe, add the ingredients to your bread machine. Be sure to place it on the dough setting, and after the bread maker has combined your roll ingredients, allow the dough to rise for 10 minutes. Once the rising process is complete, roll your dough into 15 separate portions. Allow the rolls to rise for 30 minutes underneath a clean towel. After the rolls have risen, bake them at 325 degrees for 20 to 30 minutes until the tops are golden brown. You can brush butter over the top, and your family will surely feel spoiled at the dinner table.