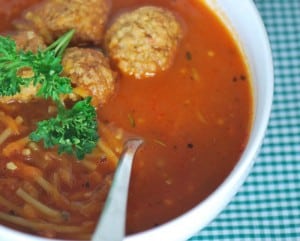 by Kelly L.
If you're looking to make something to please the whole family but find yourself short on ingredients and time, consider spaghetti soup. This lets you stretch a small amount of pasta to feed your whole family, and like spaghetti, it is well-liked by even the pickiest of eaters. Serve this filling soup in hollowed out sourdough boules or along side garlic bread. A tossed salad or steamed vegetables can round out this meal.
Spaghetti and Meatballs Soup
1/2 pound ground hamburger
1/4 cup Italian seasoned breadcrumbs
1/4 teaspoon garlic powder
1 egg, beaten
2 tablespoons vegetable oil
2 cups water or chicken broth
2 -10 ounce cans condensed tomato soup
2 – 8 ounce cans tomato sauce
2 teaspoons dry Italian herb seasoning
1/2 teaspoon garlic power
6 ounces dry spaghetti noodles, broken in 1 to 2-inch sections
1. Mix the hamburger, Italian seasoned breadcrumbs, garlic powder, and beaten egg together.
2. Form the hamburger mixture into 1-inch round balls.
3. Heat the vegetable oil in a skillet over medium-high heat, and add the prepared meat balls.
4. Cook the meat balls until browned on all sides.
5. Bring to a boil in a large stock pot the chicken broth, tomato soup, tomato sauce, dry Italian herb seasoning, and garlic powder.
6. Reduce heat to a simmer and add the cooked meatballs and spaghetti noodles.
7. Cook over medium-low heat until the spaghetti noodles are cooked through, about 5 to 8 minutes. Serve the soup with garlic bread
Yield: 6 to 8 servings
Image Credit