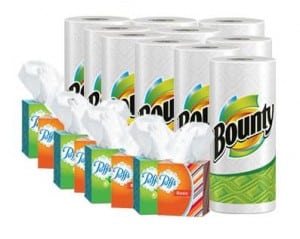 Here's a freebie for all you awesome teachers! Bounty and Puffs have teamed up with TeacherLists.com to provide teachers the opportunity to score 2 Free Boxes Of Puffs + Bounty Paper Towels. Here's how to score your freebies:
1. Click here to visit the TeacherLists.com site and signup on the top right
2. Choose "List Manager" and then "Teacher"
3. Setup your account and add your school
4. Click "get started" and create a list for your classroom that includes a Bounty product and a Puffs product. (Bounty should be under the Paper Products category and Puffs under Health)
5. Click "Finish" and save it
6. Done! You should get an email confirmation that says they'll send it to your school in about 3-5 weeks.
If you'd like, you can score additional freebies for referring fellow teachers also.
1. Click the red "Tell-a-Teacher" button at the top
2. Click "Invite Teachers" and send out your invitations
3. Done!
For every teacher you refer that signs up and creates a list, you'll both score a Clean Start Kit, which contains 2 boxes of Puffs tissues and a roll of Bounty paper towels. From my understanding, they'll send it to the school that you added with your name in 3-5 weeks 🙂
Image Credit: Puffs/Bounty