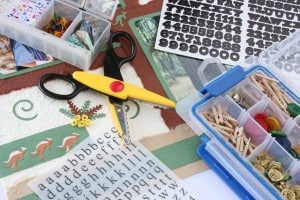 By Samantha J
Scrap booking often has a bad reputation for being an expensive hobby. This keeps many woman from creating many magnificent books because they fail to realize that many of the needed materials can be found around the home. In actuality, scrap booking is only as expensive as the budget people give it. To get started with a scrapbook, a pre-made kit can be selected, individual books and supplies can be purchased, or items can be gathered from around the home. Going the completely homemade route isn't that much of a challenge. Here is how to make a homemade scrapbook:
STEP 1: Gather art supplies from around the home. Glue, scissors, and paper will be the most important things, but try to gather things such as:
• Old holiday wrapping paper and boxes
• A binder, folder, or old photo album
• Glitter, Stickers, or Ribbons
• Markers or Crayons
• Newspapers and Magazines
STEP 2: Create a cover. Covers can be made from almost any material. If an old binder or pronged folder is handy, it can be covered in paper or fabric and decorated to make a unique scrapbook cover. Old photo albums can also be covered to create a scrapbook cover.
STEP 3: Create pages. Scrapbook page designs can be made in infinite ways. Even without special craft paper purchased from a store, unique pages can be created from construction or printer paper found around the home. Construction paper works slightly better because of it's sturdiness in comparison to plain printer paper.
STEP 4: Clip photos and arrange them on the pages to make the scrapbook personal.
STEP 5: Place pages in the prongs of the binder, folder, or old photo album.
Designs and themes for the scrapbook can be created in a number of ways. Old wrapping paper with patterns, for example, can be cut to create colorful findings rather than simply using expensive stickers. Newspaper headlines can be cropped to create unique and trendy words on the page. Rather than using matte paper for framing the photos on the page, construction paper can be used to create a very similar look.
Scrap booking is known as a very relaxing and creative hobby. By using items already found throughout the home, an excellent keepsake can be made for a fraction of the cost. Scrapbooks are a great way to keep family memories and milestones alive. The books are also a great conversation starter. For added creativity, try making a coffee table sized homemade scrapbook.