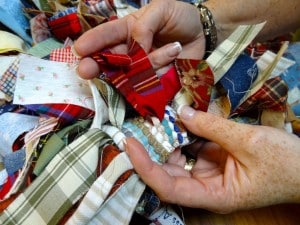 by Samantha J
One of the newest decorating trends is combining bohemian, vintage and primitive together. This theme can look old and rustic, but has interesting details that make things look cozy and chic. This form of decorating style is perfect for families with kids due to the lived in appearance that holds up. A fantastic idea to incorporate colors and patterns into a room is to make your own rag designs. The item made can be of scraps of cloth. To make the project extra special, use pieces cut from old clothing or other personal items. Old blankets, towels and curtains can be utilized, as well.
This is a project that can be machine sewn, or worked by hand. The size can be large or small. This is a perfect way to spend a cold, dreary day, or a night nestled in a room with a fireplace. This style of crafting takes a person back generations, yet the look is new and edgy. Some ideal custom projects are shower curtains, wall hangings, quilts, pillowcases or window dressings. The idea can be transferred to just about anything. Small mats, festive under-the-tree coverings, picture frame backdrops and crafty organizers are a few of the many items that can be made.
The artistry comes with the planning stage. The piece must fit into the surrounding decor for this concept to work. The style should look homey, a little worn, but not cluttered and shabby. Decide on the colors and pattern. Sewing the rag pieces together is easy. Simply leave an edge around each piece. This should be as large as your intended "fray" will be. To get this look, play with the fabric until desired look is achieved, or cut making notches. Some craft workers work a zig-zag stitch just inside the seam, on showing fabric. This should be placed within the edges of the fabric scrap. The fray surrounding this added texture gives the item a little pop. Coordinating stitch color or rick-rack can be used.
The pattern can be simple squares, diamonds or a hodge-podge of different shapes. It all depends on the desired result. Small imperfections, strategically placed, make this even more attractive. A table-runner made in this manner looks exactly right on a table with wood showing. This wood could have dings and cracks for a real back to earth look. Ensure that the wood is polished. The table should not be cluttered. A rag shower curtain is a terrific way to blend this style into the bathroom. This piece is definitely unique. Do not be afraid to experiment with color. Add material if necessary. Unusual hues, patterns and textures is what takes this look from blah to …aah.