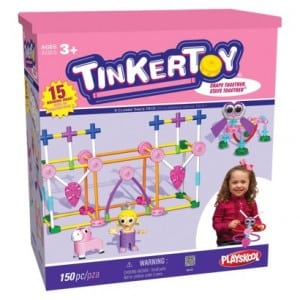 Click here to visit the Tinkertoy facebook and like them. Then on the "Win In A Snap" tab, click "Play To Win" and allow their app (you can delete it right after). Then just play their game to see if you're an instant winner. 100 lucky winners will score a free Tinkertoy building set. Even if you're not a winner, no worries because you'll still be entered into their $1,000 grand prize drawing. You can enter daily through October 20th. Good luck!
Want To Delete an Application?
Click "account" in the top right corner
Click privacy settings
On the lower left side it says Applications and Websites, click "edit your settings" and then click it again on the next page. From there you should be able to remove the application
Sweepstakes
One Sweepstakes Grand Prize: $1,000 prize awarded in the form of a check payable to the Grand Prize Winner.
One Hundred Instant Win Prizes
65 pc Essentials TINKERTOY Building Set – 34 winners
100 pc Essentials TINKERTOY Building Set – 41 winners
Big Top TINKERTOY Building Set – 8 winners
Super Tink TINKERTOY Building Set – 17 winners
Image credit: TinkerToys