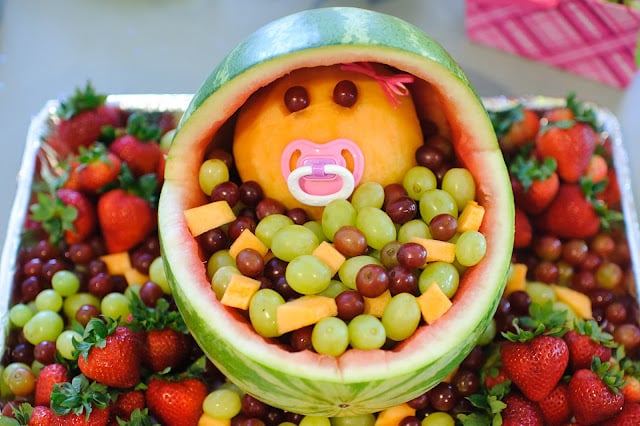 Are you looking for great baby shower centerpiece ideas?  Impress the mother-to-be and all the guests with a watermelon baby carriage!  This is a great conversation piece and it's quick, easy, healthy, and inexpensive! Here are some quick tips to help you build the perfect watermelon baby carriage:
GIVE THE WATERMELON A FLAT SURFACE TO SIT ON
Take a knife and shave a flat spot on the bottom to keep the watermelon from rolling around.  Be careful not to shave too far.  You don't want all of the fruit to spill out!
Use a knife or toothpicks and make a few drainage holes in the bottom.  These should not be large.  Just enough to drain some of the watermelon juice out.
SHAPE YOUR WATERMELON CARRIAGE
Cut the shape of the carriage hood and sides.  You can also use the portion that you cut out to make a handle for your watermelon baby carriage.
Scoop out the inside and place it in a separate container.  The inside of the watermelon should be hollowed out.
PLACING WATERMELON CARRIAGE FOR BABY SHOWER
Put the watermelon baby carriage in its serving dish or basin.  If the shower is not immediate place ice under the dish.  If you refrigerate cover the carriage with plastic wrap to avoid it drying out.
Mix the watermelon in with your other fruit to make the fruit salad.  Place the mixture into the watermelon baby carriage.  Next, slice an orange in 1/2 inch slices.  Attach to carriage with toothpicks.  You can then use other garments and fruit to jazz it up.  Another idea is to add a cantaloupe to sit in as the baby!  Take the cantaloupe, remove the outside, and place it at the head of the carriage.  Use toothpicks to attach grapes for the eyes, a strawberry for the nose, and pear or apple slices for the ears!  You now have a watermelon baby carriage with cantaloupe baby!