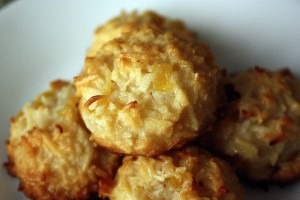 Check out this easy and affordable holiday recipe for coconut macaroons! They are delicious!
Coconut Macaroons Ingredients:
3 cups of sweetened flaked cocnut
3/4 cup of sugar
4 large egg whites
1/4 teaspoon of salt
1 teaspoon of vanilla extract
1/8 teaspoons of almond extract
Coconut Macaroons Directions:
Preheat your oven to 325 degree Fahrenheit. Place a sheet of parchment paper or foil over your cookie sheets. In a bowl, mix together the coconut, sugar, egg whites, salt, and the vanilla and almond extracts. Once everything has been combined, drop rounded of teaspoons of dough onto your cookie sheets. Bake the cookies until they are a light golden brown color. They should be in the oven for approximately 25 minutes. Allow the cookies to cool on the cookie sheets for approximately one minute after they come out of the oven. Then allow them to cool completely on a wire rack. Enjoy!