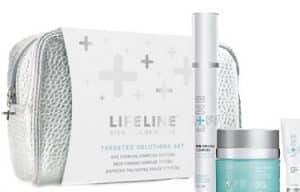 How would you like to win a LifeLine skin care gift basket valued at nearly $300? If you enter the Lifeline Skin Care beauty giveaway, you could be the grand prize winner! You may be wondering, "What is in this skin care gift basket?" The LifeLine skin care gift set includes a 1 ounce container of Neck Firming Complex, a 0.5 ounce container of Eye Firming Complex, and a .27 ounce jar of Refresh Polishing Gelée. It also includes an adorable carrying case which is perfect for those times when you are traveling.
One Of Lucky Winner Will Win a LifeLine Skin Care Gift Basket Worth Nearly $300
What makes this giveaway so awesome is the incredible products that will be sent to the grand prize winner! The LifeLine products work incredible wonders on visibly aging skin and damaged skin. The skin care products are made up of a peptide formula of antioxidants and non-embryonic stem cells. This formula rejuvenates and improves the look and health of damaged skin! The effects of using these products on your skin are truly incredible. They work best on your neck, chest, and face. If you use them, you should notice wrinkle reduction, skin firming and tightening, evened out skin tone, redness reduction, and so much more. You will love the way you look when you use these products.
The awesome skin care gift basket set can be yours for FREE if you win the LifeLine skin care giveaway! Your chances of winning the LifeLine giveaway will vary depending upon the number of people who enter the giveaway. To enter, just submit your email address and cross your fingers! If you are the winner, you will be notified by email. You have until August 29, 2016 to enter! Good luck!