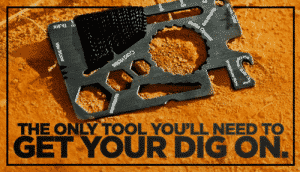 Find Out How To Get A Free Multi Tool Here!
Although Marlboro is most commonly known for their cigarettes, they are also known by some for their Marlboro sweepstakes and special freebie giveaways! Right now, Marlboro is giving out a special handy multi tool that can be used in a variety of ways.
To get your tool from Marlboro, you must sign up for a user account on the Marlboro website. In order to access the website, you must be 21 years of age or older. If you do not already have an account on the Marlboro website, you can create one for FREE. If you already have an account, simply log in to get your FREE multi tool.
After you sign in, click on the 'offers' tab in the top right section of the website. There, you will find this special freebie offer. Please note, this giveaway offer is ONLY available on Mondays to the first 20,000 people who claim the offer beginning at 12:00 PM Eastern Time.
Once 20,000 people have claimed a FREE tool, the offer disappears until the next Monday. Don't worry if you miss this special freebie offer. You can always try to claim it the following week! Just try to get on the Marlboro website as close to 12:00 PM Eastern Time on a Monday to get your freebie.