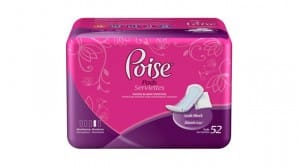 Get FREE Poise Samples With These Free Poise Kits!
Ladies, Poise is currently giving away Poise samples! You can choose from two different Poise sample kits. You can get a Poise sample kit for light leaks which includes one Lightest Absorbency Regular Length Poise Microliner, one Very Light Absorbency Long Length Poise Liner, and one Light Absorbency Poise Thin-Shape Pad. This sample kit is great for women who have occasional bladder leaks. The other sample kit is the Poise starter pack for moderate leaks. This kit is ideal for women who experience a moderate amount of bladder leakage. This sample kit consists of one Moderate Absorbency Poise Thin-Shape Pad and one Moderate Absorbency Poise Pad. In addition to these freebie sample offers, you will also find Poise coupons for liners and pads on the Poise website.
To get your FREE sample kit, select the kit that best suits your needs and click on the "Get a FREE sample" button. Then, enter you contact information to receive your sample kit right in your mailbox. There is a limit to 500 FREE samples given away each day. If you attempt to get your freebie and find that the limit has already been reached for the day, try again the following day. Request your freebies while this offer is available!