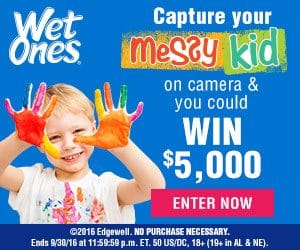 Your Messy Child Can Help You Win $5000 Courtesy of Wet Ones!!!
What would you do with an extra $5,000? Does winning $5,000 sound too good to be true?? When you enter the Wet Ones giveaway, it really could happen to you! For a limited time, you can enter the Messiest Kid In America Contest. One grand prize winner will receive $5,000 and a year supply of Wet Ones wipes. Five first prize winners will each receive a $2,500 Visa Prepaid Card. To enter the giveaway, take a photo of your child at his or her messiest! The messier, the better!
Doused in dirt? PERFECT! Covered in spaghetti? Even better! Once you have snapped your child's messy photo, upload it onto your Twitter or Instagram account. Be sure to tag the photo with the hashtags #wishihadawetones and #contest  Then, check your Twitter or Instagram direct messages. You will receive a link to claim your photo. You must follow the link in order for your photo to be included in the giveaway. Next, fill out the contest entry form and submit it. If you do not have a Twitter or Instagram account, another option is to upload your messy kid photo directly to the Wet Ones website.
In order to enter the giveaway, you must be 21 years of age or older and reside within the United States. This awesome giveaway ends on September 30, 2016. Enter while you can for your chance to win!