ED – The URL had a typo and should work properly now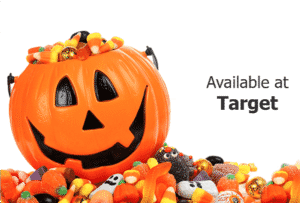 Before we know it, Halloween will be here. Now is a great time to stock up on tasty treats and candy for the hoard of trick-or-treaters you can undoubtedly anticipate at your door. Candy can get expensive, but we have a great deal to tell you about that will help you save on Halloween treats! Right now, you can claim this Target Halloween candy deal! Print out this Klip em coupon and you can save 50% on your purchase of any bag of Halloween candy at Target that is 33 ounces in size or smaller.
Please note, this coupon offer is limited to one per household. The coupon has a maximum value of $4.00. You must use this special savings coupon between now and October 31, 2016. The coupon cannot be duplicated, sold, or purchased by anyone else. Please note, this coupon can only be used at Target stores. While you are at it, be sure to check out the unique daily offers from Klip em. You can save on the best brands such as Coca Cola, Huggies, and more. If you submit certain receipts, you can even get cash back right from Klip 'Em!
So, what will you use your Target candy coupon to purchase??