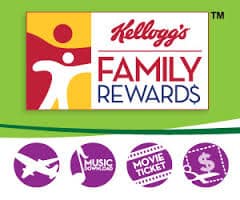 At last, the 2016 presidential election is over. That is certainly something we can all be thankful for! While many people are still celebrating (or reeling) from the results of the election, life moves forward. Kelloggs wants to celebrate the end of this contentious election cycle with FREE rewards points that you can add to your account. If you have a Kelloggs Rewards account, you can currently claim 150 rewards points! If you do not currently have a Kelloggs Rewards account, you can sign up for one for FREE. To sign up, enter your contact information to create your account. As soon as you log into your account (or create one), you can add your rewards points.
To receive 100 Kelloggs Rewards points, enter the code:

COOL-ITGE-TFRE-EPTS

To receive 25 rewards points, enter the code:

IVOTED

You must t

ext this code to the number

89332

in order to get your points added to your account.
You can add another 25 points to your Kelloggs account by entering the code

PRESIDENTIALPICK

to your account.

Be sure to add these Kelloggs Family Rewards points to your account before

they expire this Monday, November 14

. Check back for more Kelloggs codes. We will post them as they become available in the future.