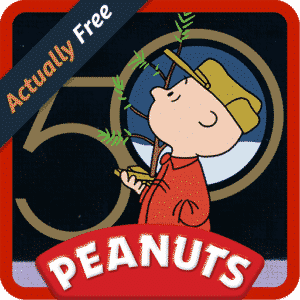 You won't want to miss out on these fun Amazon apps that you can download directly to your mobile phone or tablet. These apps are fun to play as you wait in checkout lines on Black Friday!
FREE Amazon Apps Like A Charlie Brown Christmas
Air Horn– This app does exactly what its title indicates: it creates a loud air horn sound right from your phone! Children enjoy using this app to startle friends (and parents)! This app can come in handy in a variety of situations.
Flow Free: Hexes– If you enjoy puzzle games, check out Flow Free Hexes! This app comes with over 1,000 challenging hexagonal puzzles. Some puzzles are easy and some are very difficult.
Hidden Object: Hallows Eve– This fun Halloween hidden object game is a great app to download! The app comes with many exciting mini-games that both children and adults will enjoy playing.
A Charlie Brown Christmas – 50th Anniversary of a Peanuts Classic– Christmas is coming, and you and your family will love this FREE Charlie Brown Christmas app.
Twisted Lines – Mind-twisting Puzzles- This popular puzzle game is a must-have app! It is both fun and challenging to play! It is a fun game to play especially when you need to pass time. The app comes with over 100 puzzles for you to solve.