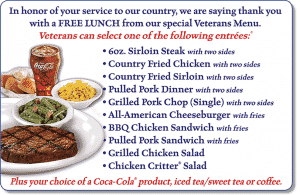 If you are an active duty member of the military or are a veteran, many stores and restaurants want to offer you Veterans Day freebies to thank you for your service. In particular, Texas Roadhouse wants to thank you for your service with a FREE meal anytime tomorrow (Friday, November 11 only).
Texas Roadhouse Veterans Day Free Meal
Veterans and active duty military members can choose from 10 different menu items as well as a drink (iced tea, sweet tea, coffee, or a soft drink). Choose from a single grilled pork chop, pulled pork dinner, chicken critter salad, grilled chicken salad, pulled pork sandwich, all-American cheeseburger, country fried sirloin, country friend chicken, Bbq chicken sandwich, or a 6-ounce sirloin steak. You will also receive two FREE side dishes along with your entree choice.
In order to receive your Texas Roadhouse Veterans Day meal freebie, you must provide proof of military service. A military ID card, discharge papers, or veterans affairs card will suffice and must be presented to a Texas Roadhouse waitress or waiter before you order your FREE lunch on Veterans Day. Please note, this Veterans freebies offer excludes alcohol and beer. Remember, this offer is ONLY valid on Veteran's Day (Friday, November 11). Enjoy your meal, and thank you for your service!