Hey Super Moms: Make Adorable DIY Valentines Cards
Valentine's Day is just a week away! There is nothing cuter than sweet little Valentine's Day cards that children give out to their classmates. The childrens Valentines that are sold in stores are a great option if you do not have a lot of time to create your own DIY Valentines. However, it can be so much fun and rewarding to create your very own DIY Valentines cards with your children.Today, we are sharing some super adorable ideas that would make great
Today, we are sharing some super adorable ideas that would make great Valentines Day cards for school. Your children and their classmates will enjoy these fun little cards! Read on to learn about how to make these DIY Valentines cards with your little ones.
Love Bug Valentines
Bugs may give some people the creepy crawlies, but these bug Valentines shouldn't scare anyone! Any insect lover will certainly enjoy handing out these cute Valentines cards.
Here is what you will need to create these Love Bug Valentines:
Plastic bugs
Paper to print out the jar shape
Double sided sticky tape
Directions:
Print and cut out your paper jars by using this template or by creating your own. Then, attach a bug to each jar using your double sided sticky tape. Your child can sign his or her name and write a special message to the classmates. For more information about this Love Bug Valentines Day cards for school idea, check out this website. This bug card is also a great preschool Valentine ideas.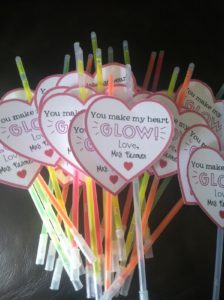 Glowing Hearts Valentines
Elementary school age children will go wild over these Glowing Hearts valentines! These Valentines literally glow after you snap the glow sticks they are attached to. These are extremely affordable, easy to make, and a huge hit with kids.
Supplies needed to making Glowing Hearts Valentines:
A pack of glow sticks (get as many as you need)
Paper
Tape
Directions:
You can create the actual Valentine message on your computer and print it out in heart shapes. The other option is to use a stencil to draw heart shapes on paper, write your messages inside the hearts, and cut them out. However, you make your heart messages, you will need to attach them to the glow sticks with tape. Be careful not to snap the glow sticks or they will begin to glow before the recipients receive them! To learn more about these glowing DIY Valentines cards, check out the source.
All Is Fair In Love And War Valentines
These little army men Valentines are perfect for elementary school aged boys and girls! They are both crafty, easy to make, and so much fun.
Supplies needed to create All is Fair in Love and War valentines:
A pack of army men
Ribbon or string
Paper
Directions:
Write out or print out small messages for your Valentines. Some fitting messages include: Love is a battlefield!, You dropped the bomb on me!, and I can't fight this feeling anymore. Then, punch a small hole in the upper left corner of your note. Use a thin ribbon or piece of string to tie it to the army men. Learn more about these army men All is Fair valentines here.
Love Stinks Valentines
Not everyone is a big fan of Valentine's Day! In fact, some people think that love flat out stinks. This Valentine idea is perfect for those people (probably young boys…) who think love is yucky! The great part about this Valentine is that it can be used over and over because it utilizes a real whoopee cushion!
Supplies needed to create a Love Stinks valentine:
A whoopee cushion (or as many as you need to create your Love Stinks valentines)
Paper
A hole punch
Ribbon or string
Directions:
Print out or write out your 'Love Stinks' message on small squares of paper. Then, cut out the squares and use your hole punch to create a small hole in the upper left corner. Use your ribbon or string to attach the message to the bottom of the whoopee cushion (the part that you blow into to inflate the whoopee cushion). You can find more detailed directions for this project as well as information about the supplies used by following this link.
Do you have some suggestions for simple and easy to make DIY Valentines? If so, feel free to share them with others in the comments section below. Have a happy Valentine's Day next week!