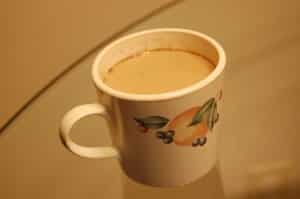 One of my favorite parts of autumn is the plethora of pumpkin inspired goodies.  Today's experiment: Pumpkin-ey Goodness.  Enter pumpkin drink and pumpkin spread.
One of my favorite fall treats is Starbucks pumpkin spice latte.  Yummy, goodness.  I look forward to it every year.  However, I do not look forward to ever rising price tag that has been placed on my coffee drink of choice.  That's why I was pleasantly surprised to discover THIS.
This recipe is amazingly simple.  It doesn't come with a green and creme status symbol cup, but it will satisfy your craving for this delicious beverage without breaking the bank.  It tastes exactly like the drink from Starbucks.  I promise you.

Knockoff Pumpkin Spice Latte
2 cups milk
2 tbsp pumpkin puree
2 tbsp white sugar
2 tbsp vanilla
1/4 tsp cinnamon
1/8 tsp cloves
1/8 tsp nutmeg
Pinch of ginger
3/4 cup of strong coffee OR 3/4 cup water and one packet instant coffee
Dump all the ingredients in a pan on the stove.
Stir them together with a whisk or a fork.
Heat it on medium heat, stirring occasionally, until it becomes as hot as you want it.
Pour it into mugs and drink immediately.
If you really want to fancypants it up, add a dollop of whipped cream, then sprinkle some cinnamon on top.
This recipe makes enough for two coffee mugs.  And, yes, there will be little bits of pumpkin in the bottom of your cup.
Here's the other recipe, a new family favorite.  My mom made apple butter when I was kid and I could have eaten that stuff straight out of the jar with a spoon, it was so delicious. We don't have any apples in our house right now, but we do have 32 cups of pumpkin puree.  Pumpkin butter was the logical choice.
Crockpot Pumpkin Butter
8 cups pumpkin puree
4 cups sugar (I did 2 cups brown sugar and 1 cup maple syrup)
2 tsp cinnamon
1 tsp ginger
1/4 tsp cloves
6 tbsp lemon juice
Dump all the ingredients into your crock pot.
Stir.
Turn it on high and crack the lid so that steam can escape.
A bunch of hours later, it's done.  I let mine cook for six hours until it was the consistency that I wanted it to be, spreadable and sticking to the spoon.
Seriously, how easy does it get?  This recipe made enough for me to fill one large Mason jar and two small Mason jars.  Ambiguous, I know.  I didn't measure it.
I am keeping one jar in the refrigerator and the other two are in the freezer for consumption at a later time.  It is recommended that you don't can this because pumpkin is a vegetable and canning doesn't get rid of all the bacteria.  Putting it in the freezer is easier too.
For breakfast this morning, I enjoyed a pumpkin spice latte and a biscuit with pumpkin butter.  Now you can too!