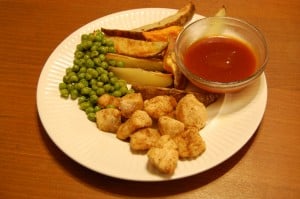 Our family tries to be very careful with how we spend our money, which means that we hardly ever eat out at a restaurant.  Ever notice that it is so easy to spend your entire wallet at a restaurant?  Wowie zowie, even cheapo fast food joints can be hard on the pocketbook these days.
Well, who needs those delicious, greasy, salty, sweet, yummy, luscious loads of calories anyway?  Why not make a healthier (and cheaper) version at home?  Today's experiment: A Take-Out Meal at Home.
Knockoff Chicken Nuggets
This recipe comes from those wonderful people at Taste of Home Magazine.  Thanks, Guys!
1/2 cup cornmeal (I had none, so I used flour and it turned out just fine)
1 tbsp chili powder
2 tsp ground cumin
1/4 tsp salt
1-1/2 lb boneless skinless chicken breasts, cut into 1-inch cubes
3 tbsp vegetable oil
1.  Throw all the dry ingredients into a freezer bag and mix them together.
2.  In small batches, add the chicken pieces and throw them around so that they become evenly coated.
3.  Heat the oil in a pan and fry those suckers.  Yummy!  They need to cook for about 6-8 minutes.  Turn them frequently so that they cook evenly and don't stick to your pan.
4.  Let them drain on paper towels (and pat them to soak up extra grease).
Better for You Knockoff Fries
This one is my own creation, but I can't even really call it a creation because it is so simple.
Any kind of potatoes, including sweet potatoes
Oil, to taste
Salt, to taste
Seasoning of choice, optional
1.  Cut the potatoes into any shape you like.  Chunks, spears, chips.  Choose your own adventure!  Place them in a freezer bag as you cut them.
2.  Pour some oil in there.  Add enough so that they'll be coated with it.  Toss in some salt as well and any seasoning you choose.  We often do ground black pepper.  Shake, shake, shake the potatoes until they are coated in oil and seasoning.
3.  Put these on a greased cookie sheet and bake these bastions of delight at 400 degrees for an hour.  They'll get wonderfully crispy on the outside and soft and warm on the inside.
Homemade BBQ Sauce, Holla!
Credit goes to those at RecipeTips.com.
1 cup ketchup
1/2 cup apple cider vinegar
1/2 cup brown sugar
2 tbsp soy sauce (I didn't have any so I just poured in a little more Worcestershire sauce)
2 tbsp Worcestershire sauce
2 tbsp prepared mustard
1 tsp ground ginger
1 tsp garlic powder
1 tbsp oil
1.  Are you ready for this?  Mix all the ingredients in a pot.
2.  Simmer 5 minutes.
3.  Chill before consuming.
4.  HOLLA!
There you have it.  Take-away at home with minimal effort and oh so good results!  Bon appetite!
Steiner, Jean, Editor.  "Nuggets with Chili Sauce."  2005 Taste of Home Annual Recipes. Reiman Media Group, Incorporated: Greendale, WI, 2004.  Pg 11.