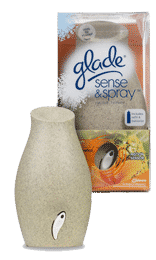 NOTE: With Right@Home offers you won't know if you were one of the first until you receive it
Click this link to visit the Right@Home site and fill out the form for a free Summer Prep Gift Pack from Right@Home. Each gift pack contains a free Glade Sense & Spray Automatic Freshener Starter Kit in Hawaiian Breeze.
If you have received a gift pack from Right@Home in the last 180 days, you are not eligible for this month's offer.
thanks a2s